Which Student Housing Near U Of I Is Right For You?
There's much to consider when picking out housing for college, such as the price, location, and amenities. Before getting into the finer details, the first decision is choosing a type of housing. Under normal circumstances, it may take several hours' worth of research to make a wise choice. But this guide from The Retreat At Illinois removes the legwork (and guesswork) from the equation, letting you decide on the perfect housing for this semester and beyond.
On Campus Dorms
Dorms are available for students of the University of Illinois at Urbana–Champaign and are found in residence halls owned and managed by the university. Traditionally, first-year students used to live in dorms by default. More recently though, freshmen are choosing to live nearby campus, mainly because of the rise of modern student housing.
What's a Typical Dorm Like?
The Illinois Street Residence Halls (ISR), comprised of the Townsend and Wardell buildings, is an archetype of U of I dorm life. The rooms are doubles and triples, which refers to the number of students who share a bedroom. The furniture for each student consists of a gray, twin mattress on a tall metal frame (or a bunk bed, in the case of triples), a wood desk with a shelf, and a filing cabinet. Storage is limited by a closet and the open space under the bed. Restrooms are located in the hallway and are shared by all residents on the floor. There are no sinks or kitchen appliances in the units.
Is A Dorm Right For You?
If you're not quite ready to be on your own and don't feel comfortable leaving the university every day, the answer is "Yes." But if you're eager for independence and a more dynamic experience, the better choice would be to skip the dorms and look for student housing near University of Illinois at Urbana–Champaign.
Traditional Apartments
The term "traditional" apartments refers to housing designed for all tenants, not necessarily students. At any given time, there are hundreds, if not thousands, of apartments for rent in the Urbana city limits alone.
What's The Average Apartment Like?
Even though the details for apartments (price, square footage, amenities) vary among complexes, most could be inconvenient for students. For example, the average apartment often comes unfurnished which means tenants have to obtain their own furniture. The same is true for internet and utilities. Even worse, residents are often required to sign one contract per unit. In such cases, if one tenant were to move out — which students often do — the other tenants would still be responsible for all payments. Lastly, the high-demand for apartments near the university often results in low availability and high prices.
Should You Rent An Apartment?
If you already own furniture and don't mind a longer commute (assuming apartments near U of I are taken), the answer is "Yes." But if you're not interested in decorating your home from scratch or having a longer commute, look for alternative housing.
Rental Homes
Houses and apartments have different architecture and square footage, but the realities of renting either type of housing is vastly the same: both are managed by landlords — either corporate entities or individuals — and residents share liability for housing contracts and monthly payments. Yet, due to their larger size and the lack of adjoining walls with neighbors, houses can be more expensive than apartments.
What's An Average Rental House Like?
Most houses are grouped into communities called neighborhoods or subdivisions. The typical home in Urbana has a yard, though sizes range from less than half an acre to several acres. Also, depending on the agreement with the landlord, tenants may be responsible for the yard work. Rental homes also tend to feature major appliances, including laundry machines, except these features are often subject to heavy use due to multiple years of occupancy without being replaced.
Should You Rent A Home?
The rental homes that students can afford tend to be older and located further from campus. If you won't miss new appliances and short commutes to class, this housing could work, especially since it comes with a yard and lots of interior square footage. However, if you're a fan of the modern living, a high-end home for rent may exceed your budget, in which case modern student housing would be preferable.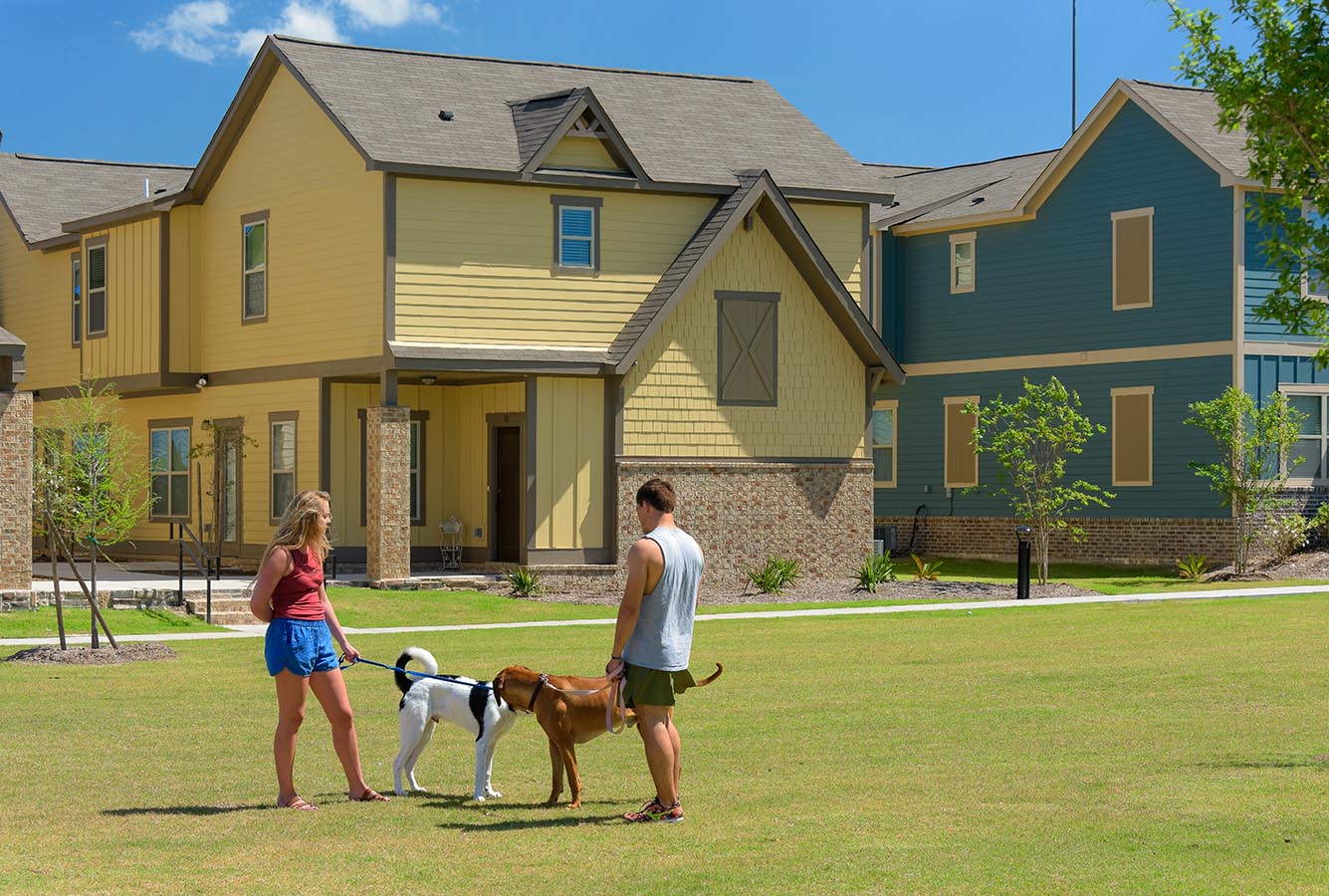 Condos
Condo is short for "condominium," a residential building divided into several units. Condos offer more space than apartments, but most still share at least one wall with neighbors. The tenants care for the interiors of their condos, such as by cleaning and setting up utilities, while homeowners associations (HOAs) handle the exterior maintenance and landscaping.
What's Condo Life Like?
Condos are oriented toward modern features, as reflected in the array of amenities and the lofty price tags (tenants also pay monthly or yearly HOA fees). The floor plans range from one to multiple bedrooms, while other features can include interior stairs, outdoor patios, and on-site parking. And though condos provide some isolation from neighbors, noise pollution could still come through. Condos are also less common in Urbana than other types of housing, making them harder to come by.
Is A Condo Right For You?
Assuming you have the time to search for an available condo, the will to take on more responsibilities for managing your home, and the budget to cover a higher cost of living, this type of housing could be right for you. Although, if you're looking for a place that's more affordable and requires less work from its tenants, other types of student-friendly, modern housing are out there.
Modern Student Housing
This type of housing emphasizes all-inclusive student living, where the major details are taken care of so that residents can focus on their college experiences. A few of the student-friendly details associated with this type of modern housing include contracts that rent "by-the-bed" and roommate-matching services. The Retreat At Illinois is the prime example of modern student housing in Urbana.
What's Modern Student Living Like?
Residents live in furnished townhomes similar to multi-level condos, except the floor plans are intended for student living — hence the individually keyed bedrooms with private, adjoining bathrooms and open living rooms.
Members of the community enjoy amenities that cater to both sides of college life, including work (private study rooms, a computer lab) and play (a resort-style pool, a game lounge). Furthermore, living close to campus is advantageous to students who desire independence but also wish to remain connected to school affairs.
Is Modern Student Housing Right For You?
If you've tried other types of student housing and were unfulfilled, modern student housing is a solution. This type of housing adopts the best elements of dorms (student atmosphere), apartments (community living), condos (modern amenities), and houses (interior appliances) and then adds special considerations for the student lifestyle (furnishings, individual housing contracts, a location near campus). The result is a type of student housing near University of Illinois at Urbana–Champaign that is suitable for students like you.